WICapedia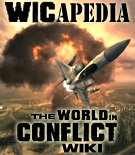 Welcome to the
World in Conflict
encyclopedia that
anyone can edit
.
Search
338 articles
:
We are currently working on 338 articles. You can check out the new pages, recent changes, and statistics. Don't know what World in Conflict is? Then read our summary here! For those who want to know more about World in Conflict, Tips, Game Modes, and more, then read the World in Conflict Guide! For a comprehensive guide to the units within World in Conflict, check out the Guide to Units.
Also, if you have the retail version of World in Conflict, be sure to visit the
Massgate Community
. Here you can check your Profile, look at the status of the War Room, look at the Leaderboards, and discuss with others on the forums. Don't forget to join the World in Conflict Online
Discord Channel
as well.
---
Massive Entertainment Wikis
Featured Article
T-80U
The KMDB T-80U "Kobra" (NATO designation SMT1997) is a Soviet heavy tank developed for the Soviet Ground Forces in 1976. It is a land warfare superiority tank with its main competitors being the M1A1 Abrams and the Leopard 2A4. The Soviet Army needed a better tank to complement the T-72, and the T-80 was the result...
Read more
Featured Quote
"
It was a rout! Our scattered forces headed for Seattle and the relief we hoped we would find there. To use a nuclear bomb on one's own country... it was insanity on a scale unmatched even by our own generals.

Romanov

"
Did You Know?
That Captains Bannon and Malashenko are both played by the same voice actor, Yuri Lowenthal?