WICapedia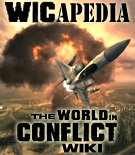 Welcome to the
World in Conflict
encyclopedia that
anyone can edit
.
Search
338 articles
:
We are currently working on 338 articles. You can check out the new pages, recent changes, and statistics. Don't know what World in Conflict is? Then read our summary here! For those who want to know more about World in Conflict, Tips, Game Modes, and more, then read the World in Conflict Guide! For a comprehensive guide to the units within World in Conflict, check out the Guide to Units.
Also, if you have the retail version of World in Conflict, be sure to visit the
Massgate Community
. Here you can check your Profile, look at the status of the War Room, look at the Leaderboards, and discuss with others on the forums. Don't forget to join the World in Conflict Online
Discord Channel
as well.
---
Massive Entertainment Wikis
Featured Article
M1A1 Abrams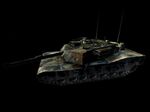 The M1A1 Abrams is a American heavy tank developed for the US Army in 1979. The Abrams is one of the first tanks to be equipped with a gas turbine engine. The M1 Abrams is one of the most advanced tanks on the field. It rivals the T-80U in armor and firepower, as well as mobility in combat...
Read more
Featured Quote
"

We followed the freeway into the suburbs with the war close on our heels. Some artillery already landed in the area, and I remember seeing a broken swing set lying on its side, next to a blackened crater. I think that was when it hit me: we have been invaded, and nothing would ever be the same again.

Parker

"
Did You Know?
That Mikhail Gorbachev would have been the General Secretary of the Soviet Union during the events of World in Conflict?