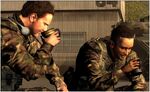 '"We need help immediately, America is under attack"'
This article, List of Characters, is currently under construction. Please contribute by helping to finish the article.

The following is a list of all known or mentioned characters in World in Conflict. This list is still incomplete as there are numerous mentioned characters in the campaign.
U.S. Characters
Edit
Military Personnel
Edit
Civilian Personnel
Edit
NATO Characters
Edit
Military Personnel
Edit
Civilian Personnel
Edit
USSR Characters
Edit
Military Personnel
Edit
Civilian Personnel
Edit