Corporal Anton Carino is a Washington National Guardsman who is seen trying to find his unit with Michael Thompson during the Soviet invasion of Seattle.
Background
Edit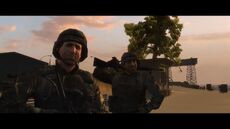 Carino is first spotted by Captain Bannon who was rallying troops and organizing a retreat. Along with Carino, was Corporal Michael Thompson, a fellow National Guardsman and friend since high school. They were trying to find their unit but due to the hectic battles around Seattle, were never able to. They shortly retreated from the city with Lieutenant Parker and Bannon, and slowly made their way through the suburbs of Seattle. When Colonel Sawyer linked up with the 5th Battalion, Anton was designated as his orderly. Anton stayed with the battalion through the gruesome campaign to take back their country, including fighting at Cascade Falls and liberating Seattle.
Carino is last seen in the ending cinematic listening to Michael's CD player, which he had finally found batteries for.
During the cinematics, he is seen carrying an M16A2 rifle and driving Colonel Sawyer's Humvee. He also wears a purple toy figurine on his left-strap, possibly as a reminder of his daughter.
Personal life
Edit
Carino works as a baker in his civilian life and is slightly overweight. He has a wife and a daughter named Julia and Isabella, respectively. He is seen and heard calling them in an abandoned school using a pay phone during a break from fighting the Russians.
Before release, Carino's original name was Anton "Ants" Rodriguez.